Mirembe Estate- Sentema is one the few housing estates in Uganda that have standard houses that are affordable by an ordinary citizen.
Mirembe Estate Sentema is a true definition of a super standard gated community.
Here are the five key factors that makes the housing estate tick.
According to a real estate expert from Mirembe Estate Sentema, it is often observed that the majority of the investors are motivated to buy the property for financial reasons or to have better future security however most of them have made losses because they have failed to master the 5 major keys.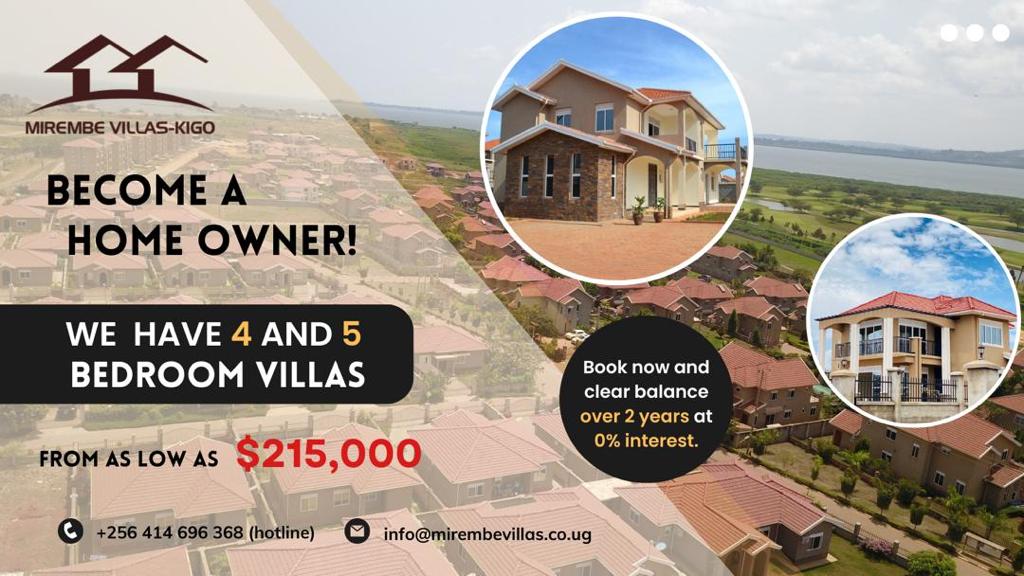 Owen Elijah Isodho, the manager of Mirembe Estate Sentema says in order to have safe and profitable property investment deals, one should keep some elements in mind and some of these are;
1.Location
Mr. Isodho explains that location is the most integral part of any real estate investment as it determines the future growth and value of the investment. In other words, successful investors say that the prime factor to be taken care of while investing in real estate is location.
"When it comes to location, Mirembe Estate Sentema mastered this element because our houses are in a strategic location. Our houses are very accessible. In real estate, one can change the property such as interior or exterior but you cannot change the location of your property. That is why at Mirembe Estate Sentema we knew it and we chose a strategic location that is very rich and safe for everyone."
He adds that Mirembe Estate Sentema is a well-planned gated community conveniently located about 12.3km from the Masanafu roundabout along the Northern Bypass and a 30 min drive from Kampala.
2.Financial Analysis
Financial analysis is another key factor in doing proper fiscal planning and understanding the aspects of owning a property. There are several financial tools for buying property such as mortgage loans, private money lenders, hard money lenders and many more.
Mr Isodho explains that at Mirembe Estate Sentema, clients willing to own a property are always advised to take a property worth their potential financial muscle and are given payment plans and mortgages.
"Payment plans and Mortgage calculations are also key aspects that play a vital role in real estate investments. So, at Mirembe Estate Sentema we provide our clients with a payment period of 24-36 months via monthly or quarterly instalments at No Interest. This has also helped many people to acquire these beautiful houses at Mirembe Estate Sentema.
He advised that before one invests in buying any property, they should first focus on their current financial status, personal financial goals and the maximum amount of loan for which he/she is eligible.
"With this, also set a budget before buying any investment property."
3.One-on-one talks with clients
"It's always advisable for one to go for a house that you see your cash flow can sustain to pay, without you getting inconvenienced or inconvenience the property sellers. Cash flow is a vital element because even when one is securing a mortgage or a loan, the banks focus much on it. So at Mirembe Estate Sentema through one on one talks with our clients, our houses are affordable. We guide our clients on the best options to take as per their cash flow and we have seen them finish to pay in time because they went for a house or property that fit with their cash flow."
He adds, "We are flexible to accommodate different requirements of customers concerning payment plans, house modifications/designs and mortgage facilitation."
4.Property Management
Managing the property is also a significant factor that Mirembe Estate Sentema embraces. At Mirembe Estate managing a property involves time, expertise, and meticulousness.
According to Mr Isodho, as far as property investments are considered it is not just investing in property and income after selling off the houses but it goes further with providing different services like garbage collecting, providing security, cleaning the estate's gardens etc.
"At Mirembe Estate Sentema, we provide our clients with all that a gated community must have such as security, garbage collection, we also offer maintenance. Clients have where to jog and play games from, kids' play is available and they are managed well by us."
5.Quality of the housing
"All of us need good and quality things, and if you are of such a caliber, Mirembe Estate Sentema is the place for you. Our work and houses are of international standards."
"We serve each customer by providing professional knowledge and consultancy from qualified and experienced property consultants. Our houses are of good quality and durability."